Warning: Use of undefined constant editmode - assumed 'editmode' (this will throw an Error in a future version of PHP) in /www/htdocs/w0091163/cms/front_content.php(934) : eval()'d code on line 588

"Dreiländer-Wanderparadies"

Aufbau und Ausschilderung des Wanderwegnetzes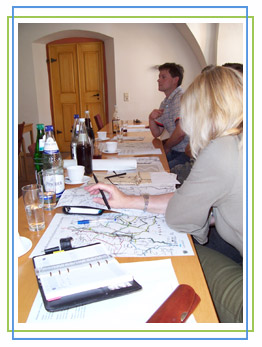 Erstellung der Wanderkarte "Wandern im Dreiländereck"
Im Rahmen des Projektes entstand eine Wanderkarte, die Besucherinnen und Besucher von Ostritz zu den schönsten Orten in der Umgebung führt. Die entstandene Karte ist sowohl für Wanderer als auch für Radfahrer konzipiert und führt in einem Umkreis von 15 km um und durch Ostritz.
Innerhalb eines Arbeitskreises, der aus vielen freiwilligen Ostritzern und anderen freiwilligen Helfern bestand (Wanderfreunde, Förster, ehemalige Förster, Wegewarte etc.), entstand die neue Wanderkarte. Nach dem dritten Arbeitskreistreffen lag bereits der erste Entwurf der Wanderkarte vor. Binnen von fünf Treffen konnte die Karte mit vielen Routen und Beschreibungen der Sehenswürdigkeiten entlang der Strecken entwickelt werden.

Das Ergebnis
Es entstand eine Rad- und Wanderkarte mit einer Nord-Süd-Ausdehnung vom Berzdorfer See (Görlitz-Hagenwerder) bis zum Tierpark in Zittau (D) und Bogatynia (PL) sowie einer West-Ost-Ausdehnung von Dittelsdorf/Schlegel (D) bis nach Boleslav (CZ) und Višňová (CZ) im Maßstab 1:33.000. Die Karte beinhaltet insgesamt 10 Routen, die durch die drei Länder Deutschland, Polen und Tschechien führen. Zudem gibt es 3 Strecken durch den idyllischen Klosterforst. Jede Route wird durch eine Streckenbeschreibung, eine Kilometerangabe, eine Empfehlung für Wanderer oder Radfahrer sowie einer Zeitangabe kurz beschrieben. Start und Ziel ist jeweils im Kloster St. Marienthal in Ostritz. Die Rückseite zeigt zwei Kleinstadtwanderungen durch Ostritz, informiert im Gaststättenverzeichnis über die Einkehrmöglichkeiten am Wegesrand und beschreibt Sehenswürdigkeiten in Ostritz, um Ostritz, in Polen sowie in der Tschechischen Republik mit einem kurzen Text und einem anschaulichen Foto.
Die Wanderkarte ist für 4 € am Gästeempfang des Internationalen Begegnungszentrums St. Marienthal, im Kloster St. Marienthal, im Kulturbüro der Stadt Ostritz, in einigen umliegenden Gaststätten, sowie über den Buchhandel deutschlandweit erhältlich.
Ausschilderung des Wanderwegnetzes
Ein weiteres Ziel des Projektes ist die Erneuerung und Ergänzung der Beschilderung im Klosterforst und im Stadtwald von Ostritz. In Zusammenarbeit mit den Wegewarten von Ostritz, Hirschfelde und dem Kreiswegewart des Landkreises Löbau/Zittau erfolgt derzeit die Umsetzung.
Bis zum Ende des Jahres 2007 werden die fehlenden Schilder ersetzt und ein Wandern in unseren schönen Wäldern wird anhand von markierten Wegen wieder mühelos möglich sein.