Warning: Use of undefined constant editmode - assumed 'editmode' (this will throw an Error in a future version of PHP) in /www/htdocs/w0091163/cms/front_content.php(934) : eval()'d code on line 588

Elf Freunde müsst ihr sein...

Von Irmela Hennig, Quelle: Sächsische Zeitung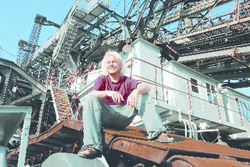 Die "Lernstraße Energie" ist zu wenig bekannt. Die Initiatoren wollen, dass jeder Ort mehr Werbung für die Partner macht.

Manchmal ist es gar nicht so offensichtlich. Was hat die Kulturinsel Einsiedel mit Energie zu tun? Was das Naturschutzzentrum Zittauer Gebirge oder die Freunde des Bogatyniaer Landes? Offensichtlich oder nicht: Sie sind Partner der "Lernstraße Energie". Elf Orte der Lausitz, vernetzt zu einer Straße, sollen den Energie-Standort Oberlausitz symbolisieren. Die Route verknüpft Orte, die im nahen oder weiten Sinne mit Energie zu tun haben. Schulklassen, Gruppen, Einzelpersonen können das Energieland Lausitz erfahren, erforschen – von Zittau bis Zentendorf. Die Route macht einige Schlenker nach Polen, sie beginnt und endet in Großhennersdorf, in der Umweltbibliothek.

Hier macht sich Andreas Schönfelder als Projektleiter schon seit Jahren Gedanken über diese Lernstraße, die vom Bildungsnetzwerk Pontes initiiert wurde. "Wir müssen bekannter werden", sagt er. Und hat ein Problem im Blick, für das die Partner gerade am Konzept feilen: Einzelne Standorte, wie die Kulturinsel Einsiedel, sind gut bekannt. Andere, wie der Schaufelradbagger nahe Görlitz, müssen sich überregionale Aufmerksamkeit noch hart erarbeiten.

Jeder wirbt für sich allein

Mehr öffentliches Interesse – das könnten Veranstaltungen bringen. Viele Programme der Partner werben aber nur für einen Punkt auf der Route. Ein gemeinsames Fest kann sich Andreas Schönfelder vorstellen. "Aber erst, wenn die politisch Verantwortlichen die Bedeutsamkeit des Projekts erfassen." Sprich: wenn es mehr Unterstützung gibt.

Ab September sollen Infotafeln auf Deutsch, Polnisch und Tschechisch die Route Punkt für Punkt erklären. Im Museum Kraftwerk Hirschfelde ist sich Anja Nixdorf sicher, dass die Kooperation für das Museum positive Effekte haben wird. "Es ist immer schwer, so eine Marke wie die Lernstraße Energie zu etablieren." Von den 28000 Besuchern, die seit 1992 da waren, frage kaum jemand nach der Straße, sagt Friedrich Grosse vom Verein, der sich um das Museum kümmert. Die Menschen wollen das Kraftwerk sehen, deswegen kommen sie.

Doch die Hirschfelder gehen in die Offensive. Am 7. Oktober ist ein Besuchertag im Kraftwerk geplant. Bei dem soll die "Lernstraße Energie" vorgestellt werden. "Jeder Partner sollte mit einem Stand vertreten sein", hat Friedrich Grosse vorab überlegt.

Im Naturschutzzentrum "Zittauer Gebirge" hat man ähnliche Erfahrungen gemacht wie in Hirschfelde. Vereinzelt gab es von Schulklassen und interessierten Bürgern schon Rückfragen zur neuen Route, sagt Silke Hentschel vom Naturschutzzentrum. Wie viele Leute sie jährlich mit ihren Angeboten, beispielsweise Führungen durch den ehemaligen Braunkohletagebau, erreichen, lasse sich schwer schätzen. Silke Hentschel geht aber davon aus, "dass der Lernstraßen-Effekt noch verstärkt kommt".

Wer repariert das Infomobil?

Das Infomobil "Energie" des Görlitzer Vereins Sapos hat, als es vor ein paar Jahren startete, an Schulen der Region informiert über die Mitglieder der Lernstraße. "Wir haben von allen Partner, soweit es etwas gab, Material ausgelegt", sagt Michael Baron von Sapos. Ob es damit weitergeht? Die Zukunft des Mobils ist offen. Es muss umfassend instand gesetzt werden. Unklar ist, wer das bezahlt.